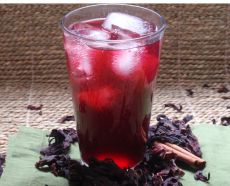 Hibiscus Tea, popularly referred to as Sobolo, has been used in modern culture as a mild yet natural diuretic.
Dieters and people with kidney problems often turn to the natural and beneficial properties of the hibiscus flower, because of the Vitamin C and minerals, and as a diuretic.
Recently, studies have shown that the anti-oxidants within the hibiscus flower have proven to decrease cholesterol levels and the risk of heart disease.
In a 2008 USDA study shows consuming hibiscus tea lowers blood pressure in a group of pre-hypertensive and mildly hypertensive adults.
Three cups of tea daily resulted in an average drop of 8.1 points in their systolic blood pressure, compared to a 1.3 point drop in the volunteers who drank the placebo beverage.